I've spoken before of how much I like Netflix in spite of its programming tendency toward an overabundance of weirdness and horror.

So, what am I watching? The Crown. Produced by Left Bank Pictures and Sony Pictures Television and primarily written by Peter Morgan. One has to wonder where all the historical information comes from, other than newspapers and those willing to speak out frankly. Queen Elizabeth II is a notoriously private person and this fact is well-documented in the show as well as her reasons for it. After all, she's not an actress or even President. She's the bloody queen and an air of mystery is necessary to carry out the majesty of monarchy.
What's so wonderful about Netflix is when it comes out with new episodes, you can binge watch the whole season in a day if you have the time. With ten episodes per, The Crown is supposed to last six seasons and a fourth season has the green light at the time of this writing. The cast is marvelous, the writing captures high and low moments for the royal family and sets a tone of empathy rather than envy for circumstances that mere mortals would find impossible to deal with. These people were born to it.
The only major screw- up I've noted is the blue eyes of Claire Foy and Vanessa Kirby (the queen and Princess Margaret, respectively) becoming the brown eyes of Olivia Colman and Helena Bonham Carter. What they did get very right was season three, episode four, Bubbikins. We can hardly imagine stiff ol' Prince Philip going by that nickname.
Jane Lapotaire plays Princess Andrew (Alice) of Greece and Denmark, Philip's mother, with grace and beauty and a diminished sense of royalty that's refreshing in this dramatic portrait of aristocrats. Before watching I knew absolutely nothing about her and was humbled by the story and sacrifices of an amazing lady.
Her great-grandmother was Queen Victoria, present at her birth in Windsor Castle. She met her husband, Prince Andrew, the fourth son of the King of Greece, at 17 and married him a year later. To give you an idea of how inflation has exploded out of control, the 1903 wedding garnered them gifts in a round figure of three-quarters of a million dollars, around $23 million today.
Alice was born deaf and learned to lip read. She was awarded the Royal Red Cross in 1913 for her work in nursing during the Balkan War. In 1922, following the Greco-Turkish War, the royal family fled Greece and Princess Alice's breakdown led her to be institutionalized for schizophrenia. Prince Andre, her husband, effectively abandoned his wife and carried on with his mistress. Sigmund Freud treated her because he was interested in her fantasies of a religious and sexual nature. Against her will, he had her ovaries X-rayed to bring about early menopause and prescribed electroshock therapy.
In the mid-1930's Alice left treatment and went back to Greece where she worked for the Red Cross and fed the poor in soup kitchens. During World War II she hid the Jewish family of an old friend, Rachel Cohen, in her own home and pretended she couldn't hear the Nazis when they asked about them, saving their lives. Yad Vashem named her Righteous Among The Nations in 1993 and planted a tree in her honor in Jerusalem.
In 1949 she founded the Christian Sisterhood of Martha and Mary, and sought funding for it, often at personal peril, in war-torn Greece until she moved to Buckingham Palace in 1966.
I can't speak for Prince Philip except to say his later formative years were spent without his mother's love and guidance since she was in asylum. The family situation was, of course, known and in episodic flashback sequences the lad was subjected to ridicule by classmates at school. The stigma attached to mental illness at that time no doubt caused him a great deal of embarrassment.
But was she truly schizophrenic, one wonders? More likely she was profoundly depressed. Psychiatry was still a very young science. Misdiagnoses were made out of ignorance, not malice. Treatment was woefully inadequate at best and outright inhuman at worst. One was mad, therefore, one got locked away.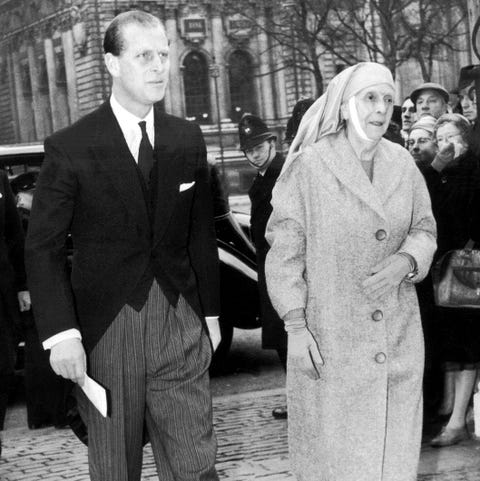 Hoping to get the government to grant the royal family a pay raise, Prince Philip asks BBC to film a documentary about them to bring home the necessity of funding for their important role in English politics. While not part of the governing branch, they perform state duties that are essential. Smack in the middle of this arrives Princess Alice, to the chagrin of the Duke Of Edinburgh. According to The Crown, Philip was opposed to her coming to Buckingham Palace even though there had been a military coup and all foreign nationals had been ordered to leave Greece. As portrayed in the teleplay (most ably by Tobias Menzies), Philip doesn't even go see her until after Princess Anne's machinations result in Alice being interviewed by a reporter that had excoriated the documentary and ruined all Philip's hopes that the British people would see them as deserving of taxpayer money.
The reporter is utterly charmed by the deeply religious nun and writes a touching account of her triumph over tragedy. Lapotaire and Menzies have a moving scene at the end of the show where they reconcile. I don't know if The Guardian's headline was The Royal Saint or not. Perhaps this was just a bit of drama in the show.
One of the requirements to be canonized is verification of miracles performed by the candidate. I suppose I'm arguing that Princess Alice did indeed work a miracle in winning back the heart of her son. They were photographed together in the years before her death with her dressed in full nun attire. He attended the ceremony in Jerusalem in her name. The good works of this Catholic sister live on in fact and memory. Perhaps her delusions were actually visions.
More information about this extraordinary woman is here: https://www.elle.com/culture/movies-tv/a29849010/princess-alice-battenberg-the-crown-real-life/ and here: https://en.wikipedia.org/wiki/Princess_Alice_of_Battenberg